About Course
Is it possible to build a website as a complete beginner without any experience?
The problem with creating websites is that there are so many elements you need to understand. There are the design part and the technical part that you will need to understand to make it work. This is the reason why most people don't even start with their first website.
Learning how to create websites comes with huge opportunities. You will be able to create your own website (like I do in this course) or create websites for other people or businesses. This makes website creation a hugely profitable skill. Companies are willing to spend thousands of dollars on each website.
I've gathered more than 95,000 subscribers on YouTube over the past few years. I've been so thankful and happy that people like my content. That's why I'm also creating online video courses now.
Why Should I do this Course?
As an instructor, I understand sometimes students don't want to continue or procrastinate. In this course, we are not going to rush. This means that I will show you all the steps, from the first title to the last button. Having a portfolio is essential if you want to work, if you're a freelancer or a professional, take this course so you can easily build your own portfolio!
Let's talk inside
Cheers, Moshiur
Show More
What Will You Learn?
You will have a beautiful website that you will be proud of.

You will be able to optimize any WordPress website to load in less than 5 seconds.

WordPress security: Setup Firewall, Protect WordPress Files and Database, Setup Secure Login and much more!

You will know how to buy and manage your domain and web hosting.
About the instructor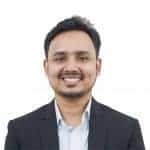 CEO & Course Instructor
Hey, My name is Moshiur! I have been working as a Freelance Web Designer and WordPress Developer on an international marketplace named Fiverr since 2015. Besides freelancing, I have trained a lot of students on Web Design, Development & WordPress. After completing the course a lot of them are working on several international marketplaces successfully.
Course Curriculum
Section 1: Let's Start This Amazing Journey!
How to Get Help & Support from Your Course Instructor

WordPress, Premium Themes, Recommended Plugins Installation

Build Hero Section

Build About Me & My Services Section

Build Latest Works, Why Choose Me & Testimonial Section

Build Pricing Plans, Contact & Footer Section

Make Your Portfolio Website Responsive & Mobile Friendly | Fix the upload_max_filesize Error in WordPress [Live Server], Transfer/Migrate Your Website from Localhost to Live Server

How to Optimize Your Images [Best & Safe Method]
Section 2: Domain & Web Hosting
How to Buy a Domain and Web Hosting

How to connect a domain name to a hosting account or a server

How to Change Your cPanel Password

How to Install Free SSL Certificate on cPanel

How to Create An Email Account in cPanel

How to: Upgrade PHP to Latest Version | Fix Fatal Error: Maximum Execution Time Exceeded | Increase the Maximum Upload and PHP Memory Limit

Step-by-Step Guide to Migrate/Transfer Your WordPress Site Manually
Section 3: Website Security & Perfomance Optimization
How to Install SSL and HTTPS on Your WordPress Website | Most Powerful Caching Plugin Installation & Configuration

Easily Migrate Your Website to SSL

Most Powerful Caching Plugin Configuration | How To: Properly Run a Website Speed Test | Manage Your Clients Efficently | Use Cloudflare CDN with an SSL

Most Powerful Caching Plugin Configuration | How to: Use Cloudflare CDN with an SSL | Setup and Install Google Analytics on Your Website | Setup a Professional Email Address with Gmail Account

Why my subdomain is not working?

How to Secure & Protect WordPress Website

How to Enable Hotlink Protection in cPanel
Section 4: Backup Configuration & Maintenanace
How to Backup Your Website Using a Plugin and Restore WordPress Site From Backup

How to Manually Backup and Restore a WordPress Website
Section 5: Bonus Lecture
Live Client Project: Optimize WordPress Website Speed

Skill Development Tips & Discount Coupon
Student Ratings & Reviews